51 Tips to Celebrate Earth Day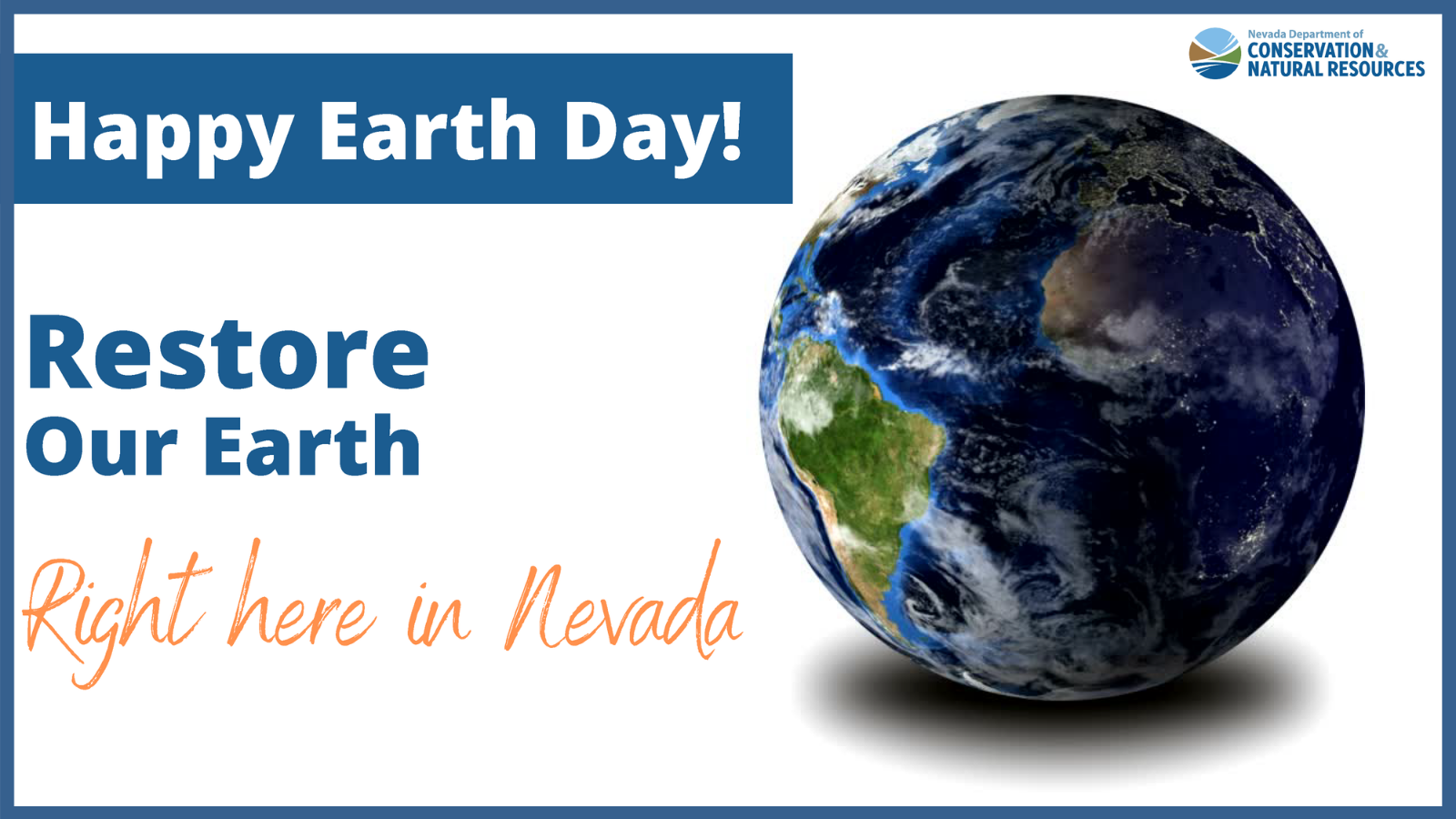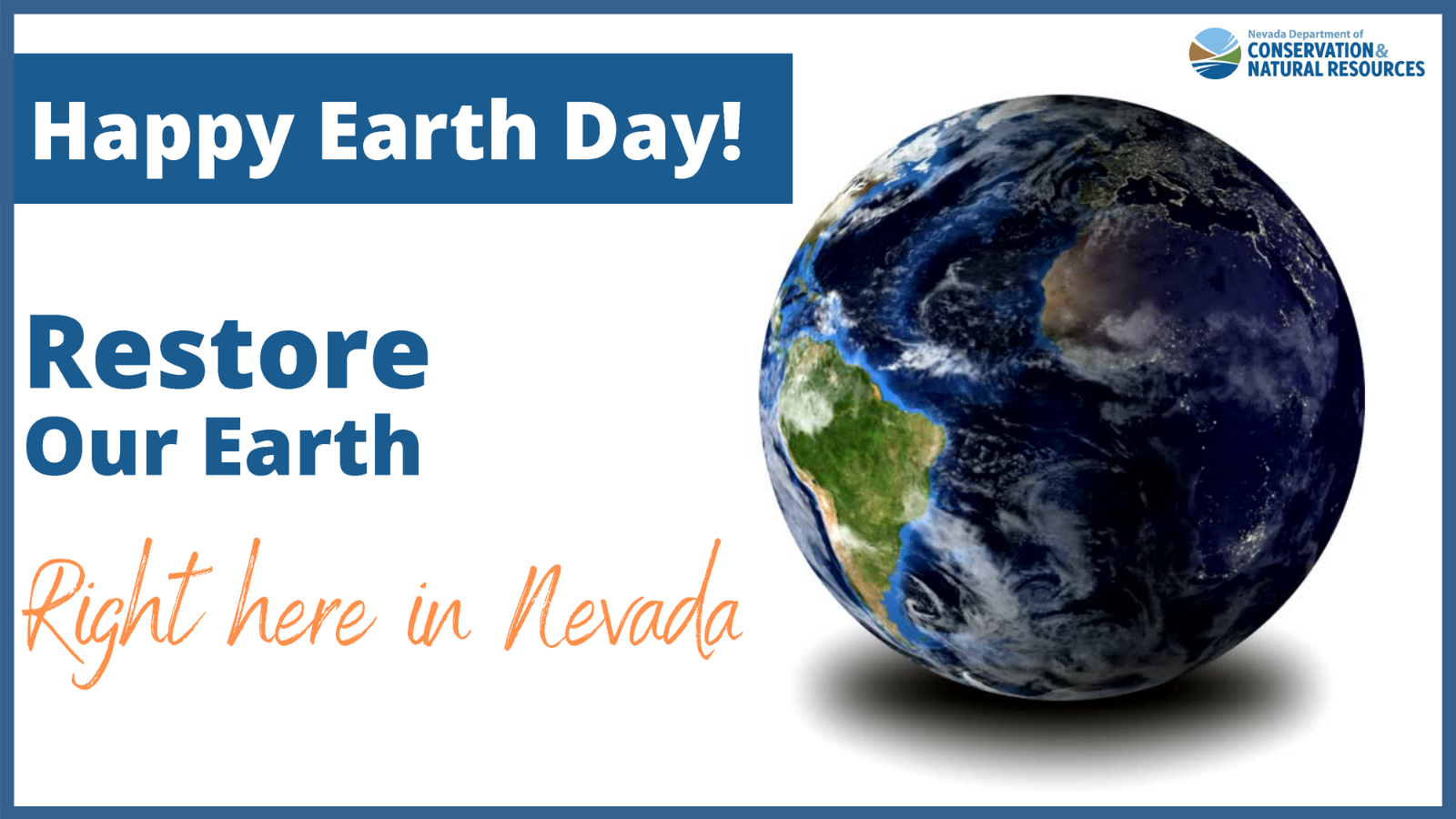 (Click image to play video)
Every day is "Earth Day" for the Nevada Department of Conservation and Natural Resources (NDCNR) as we strive to protect, preserve and enhance Nevada's natural, cultural, and recreational resources. As we recognize the 51st annual celebration of Earth Day on April 22, we are looking at some of the many ways that you can help to "Restore Our Earth" here in Nevada:
Create defensible space around your home and property to help prevent wildfires from sparking and spreading.
If you are advised to stay indoors due to wildfire smoke, take steps to keep indoor air as clean as possible. When smoke levels are high, try to avoid using anything that burns, such as wood fireplaces, gas logs, gas stoves - and even candles! Vacuuming can also stir up particles already inside your home. You can view the air quality in your community anytime by visiting airnow.gov.
At home, opt for eco-friendly paints and cleaning products. Store household hazardous materials like solvents, fuel, cleaners, pesticides, paints in proper containers to prevent spills. Clearly label all hazardous products before storing, and never store hazardous products or wastes in food or beverage containers.
Dispose of household hazardous wastes at local collection events or take them somewhere to be recycled to keep these chemicals out of the environment and the landfills. Plan ahead when purchasing a potentially hazardous product to ensure you have somewhere to take it. Always look for non-toxic alternatives first and only buy what you need.
Participate in local energy conservation programs. Conserve electricity; set your thermostat a little higher in the summer and a little lower during the winter. Look for the Energy Star label when buying home or office equipment.
Enjoy cleaner air indoors and outside by opting for efficient energy appliances and household heating technologies.
Work from home periodically if your job allows it to help reduce air pollution and greenhouse gas emissions stemming from passenger cars and trucks.
Rake leaves instead of using a leaf blower.
Plant a pollinator garden with native plants! Some of the best plants for native pollinators are: sunflowers, buckwheat, bee plants, cacti, daisies and their relatives: bee balm, bitterbrush, and rabbitbrush. Visit Nevada Division of Forestry Nurseries to purchase native plants that are perfectly suited in survive in Nevada's natural environment.
People can mitigate dust by landscaping, zero scaping and taking responsible action during earthmoving activities on their property. This could include watering before you dig, graveling a dirt driveway, or allowing natural vegetation to grow when a property is not being used.
Water that runs off your lawn heads right down a storm drain and into Nevada's fresh waterways. Adopt sustainable lawn care practices by using organic fertilizers, reducing pesticide and herbicide use, adjusting irrigation sprinklers to reduce water runoff from your lawn, and picking up after your pets and properly disposing of the waste.
Call in suspected Underground Storage Tank releases immediately to the Spill Hotline, 888-331-NDEP. Releases can contain contaminants of concern causing water to be unsafe or unpleasant to drink. Releases can also result in fire and explosion hazards, as well as produce long-term health effects.
Understand how your home's septic system can impact nearby water sources, and remember, wipes clog pipes! There is no such thing as a "flushable" wet wipe. These wipes can cause blockages in plumbing that can negatively impact local water supply.
You can also help keep Nevada's water clean by not washing your car at home. Remember, only rain down the storm drain!
If you are a farmer or rancher, consider adopting soil health and regenerative agriculture practices to not only improve your soil fertility and farm productivity, but to help protect and improve water quality in your local watershed. Did you know soil health practices help reduce soil erosion to streams and improves ground water recharge on your farm?
Form the edges of garden areas with plants that are drought tolerant to decrease the amount of water runoff from the yard. This wasted water could be used as drinking water. Furthermore, this water could include excessive nutrients and sediment runoff, both of which are pollutants for a watershed.
Add a layer of mulch to your lawn to help retain soil moisture and follow your water utility's rules and guidelines for irrigation. Watering early or late in the day reduces evaporation!
For Private Landowners and Commercial Developers, implement "Low Impact Development" or "Green Infrastructure" practices in all new development design to improve stormwater quality in urban areas and help keep our waters free of harmful contaminants!
Nevada is the driest state in the nation, and it's no surprise that drought was ranked as a top 3 climate-related concerns among Nevadans in a 2020 survey. So, taking steps to conserve water, like growing only native plants in your garden that require less watering, can make a big difference in protecting our limited water resources.
Conserve your drinking water by reusing wherever possible to water plants. When pulling hot water to a faucet, collect all the water before the desired temperature arrives and give your thirsty plants and animals a drink.
Read your water meter before and after a two-hour period when no one is using water. If the number changes, you may have a leak!
Metals are a non-renewable resource that must be either mined or recovered through recycling. Every bit of metal that is recycled is one that does not have to be newly mined. You can help to reduce the demand for raw materials by recycling. Check out the County Recycling Guides on the Nevada Recycles website!
Reduce litter and plastic pollution by opting for a reusable water bottle. They come in all shapes and sizes, and make a big impact on the amount of plastic that ends up in landfills.
Learn about the Nevada Recycling Rate and what the public can do to help increase it on the Nevada Recycles website.
If you own a business, consider gaining a green certification through the Nevada Green Business Network. The program provides businesses with the tools to save money, protect the environment, gain a marketing edge, and be a part of an online searchable directory!
When unsure of the recyclability of an item or where to take it to be recycled, check the Nevada Recycles website or call the Nevada Recycling Hotline at 800-597-5865. If recycling is available in your area, know the local rules on what items are accepted. Never "wish cycle" by hoping the item you are placing in your bin is recyclable.
Are you always forgetting your reusable grocery bags? Keep extras tucked away in your vehicle or load groceries directly back into your cart and transport them to the car without the need for plastic bags.
Conduct a household waste audit to see how much material, food, and money is being wasted in your home. Start with simple waste reduction strategies. They will be easier to implement once you identify what your family's biggest waste streams are.
Help stop illegal dumping by reporting a dumping in progress or the location of an illegal dumpsite to your local public safety dispatch, or by hanging a "Stop Illegal Dumping" sign. Reporting illegal dumping helps keep your neighborhood a clean, healthy, and safe place to live. Any junk, garbage or debris left on public property—including roadsides, open streets, and paved alleys is considered illegal dumping.
Compost at home or subscribe to a neighborhood composting service. Organic waste in landfills generates, methane, a potent greenhouse gas. By composting wasted food and other organics, methane emissions are significantly reduced. Check out the Nevada Recycles webpage on composting to get started!
Volunteer in a community cleanup day or host your own neighborhood cleanup event. Clean up events are effective and safe ways to make a positive impact. Check out groups in Northern Nevada and Southern Nevada coordinating cleanup events!
The office is a great place to reduce waste. Reuse manila folders, binders and other office supplies, and buy recycled copy paper and notepads.
The fastest way to increase your personal sustainability is to manage belongings in order of the 5 R's: first reduce, reuse, repair, rot (compost), then recycle. Disposal in the trash, and ultimately the landfill, should be a last resort. Remember, there is no "away" when throwing an item in the garbage.
Track the progress of projects around the state and become a part of the Federal environmental review process through the Nevada State Clearinghouse. Established by executive order in 1989, the Nevada State Clearinghouse program exists to inform the public of proposed federal projects in Nevada and their potential environmental impacts.
When visiting historic or cultural attractions, sometimes the best souvenir to take home is simply a photo or a journal entry that captures your special memories. Help preserve naturally and culturally significant landmarks by leaving them how you found them.
When enjoying Nevada's outdoor recreation opportunities, remember to leave no trace and only camp, park, and hike in designated areas.
If you are visiting Nevada State Parks, make sure to bring extra garbage bags to pack out what you pack in, and please pick up after your pets.
Save gas and save the planet by "touring" Nevada's state lands online! The Division of State Lands' interactive GIS map highlights all state-owned properties, including State Parks and Wildlife Management Areas.
When exploring Nevada's outdoor splendor on an off-road vehicle, always stay on trails to avoid damaging the natural environment and native ecosystems. And be sure to register your OHV to drive funding to trail restoration projects. Today's registration dollars create tomorrow's off-road adventures!
In today's day and age, wildfire knows no season and can happen anywhere, anytime of year. When enjoying Nevada's wildlands, please recreate responsibly and help prevent wildfires. Follow all fire restrictions, avoid parking on dry grass, and only practice target shooting in designated areas.
Show Lake Tahoe some love and help restore this amazing natural treasure by purchasing a Nevada Lake Tahoe license plate! Proceeds from the license plate program are invested in environmental improvement projects across the entire Lake Tahoe Basin. Every plate counts!
Prevent invasive species by having your boat inspected, not releasing fish or other pets into lakes or other outdoor areas, and always clean your shoes, gear, and tires after taking a camping trip or driving off road. This helps reduce the spread of unwanted weeds and invasive species!
Support Nevada's sensitive sagebrush species, including the iconic sage-grouse, by avoiding recreating in muddy or wet conditions that can cause erosion and negatively impact water quality in nearby streams. Also, if you bring snacks, be sure to properly dispose of any food waste.
Participate in a Sage-grouse Lek event! Remember to arrive at least 45 minutes prior to sunrise, stay at least 200 yards from leks, remain in your vehicle, minimize movement and noise, and keep your pets inside the vehicle.
You can support scientific research that helps protect Nevada's plants & animals by using the iNaturalist mobile app to track and document what you find while on an adventure in the woods, or just a walk around the neighborhood.
Install bat houses, bird houses, and bee hotels in your garden.
Prevent domestic pets from harming wildlife by keeping your cats indoors.
Transportation is the leading source of greenhouse gas emissions in Nevada. Consider opting for cleaner transportation options – like Electric or hybrid vehicles, to support healthier air quality/communities. You can also plan your errands efficiently to avoid backtracking; Learn more about how Nevada is advancing a clean transportation future through the Clean Cars Nevada initiative.
Slow down! Enjoy the view! Driving slower on unpaved roads helps keep the dust down, the air cleaner, and the vistas even more spectacular!
Remove extra weight from your vehicle. The more your car weighs, the more fuel it will use. Removing any non-essential items from your car like golf bags or bowling balls could increase your fuel economy, which over time will add up to saving on fuel cost and help keep the air cleaner.
The impacts of climate change can be seen and felt all around us in Nevada and worldwide. To restore our earth, we must restore our climate. By doing your part to restore Nevada, you are doing your part to cultivate a healthy, resilient, and sustainable future for all.