New Partnership to Expand "Our Place Homeless Project"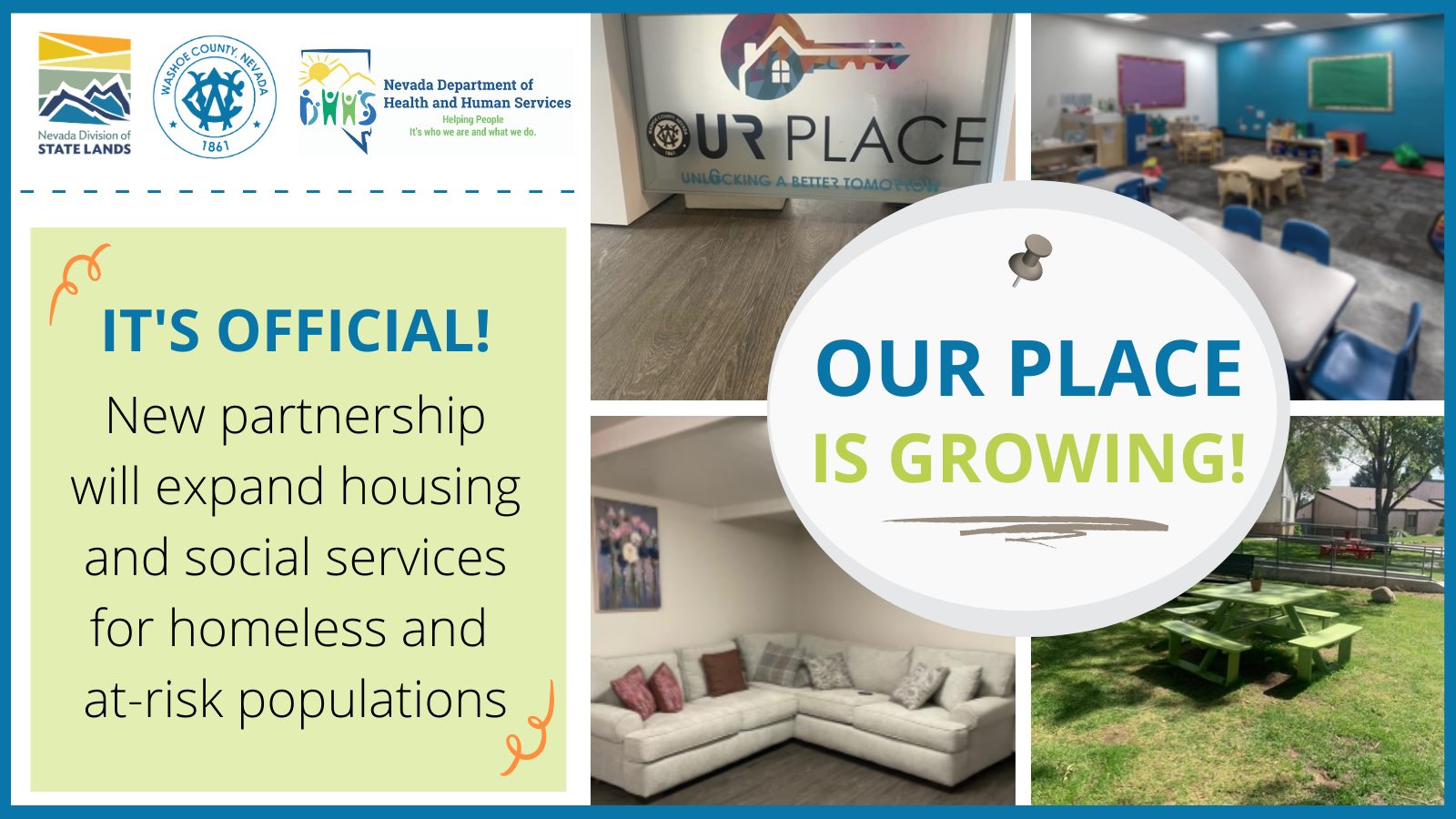 Nevada Division of State Lands, Washoe County, DHHS collaborate to expand housing & social services for homeless and at-risk populations
Nevada Board of Examiners approves lease agreement for "Our Place Homeless Project" during January 12 meeting
The Nevada Division of State Lands and Nevada Department of Health and Human Services are pleased to announce a new partnership between the State of Nevada and Washoe County to expand housing and social services for homeless and at-risk vulnerable populations through the "Our Place Homeless Project," located within the state agency campus in Sparks, Nevada.
Through this collaborative partnership, the Nevada Division of State Lands is leasing 21 acres of property on the Northern Nevada Adult Mental Health Services campus to Washoe County to significantly expand Our Place's programs and services, including the following:
Mental health and substance abuse program
Homeless shelter for women and families
Prevention of foster care placements and preservation of families
Reduction of jail admission/emergency room visits
Employment and educational opportunities
"The Nevada Division of State Lands, together with our partners at Washoe County and the Department of Health and Human Services, is proud to support efforts to expand critical social services and housing for those in need here in our ever-growing community," said Charlie Donohue, Administrator of the Nevada Division of State Lands. "Our hope is that, by authorizing the use of state lands for this important undertaking, our partners will be able to advance programs that further their mission to address the many challenges facing homeless and vulnerable populations in Northern Nevada for years to come."
"Northern Nevada Adult Mental Health Services is excited to collaborate with Washoe County to provide needed resources to our homeless and vulnerable populations," said Jo Malay, Deputy Administrator of the Division of Public and Behavioral Health. "It is our pleasure to assist with behavioral health services to positively impact those served by this program."
"We are thankful for this this 25-year lease, as it allows our staff to pivot when required and respond quickly within our campus to meet the needs of our friends experiencing homelessness," Human Services Agency Director Amber Howell said. "We also have an opportunity to build a garden and additional buildings, which will enhance the recovery experience for our clients, who need a safe, healthy, and secure place to stay. We thank every person who helped make this vision become a reality."
Homeless women, children, and families that are currently residing at the Community Assistance Center in downtown Reno will move to the new Our Place campus when it opens in spring 2021. The new campus will provide more space for social and recreational opportunities for children and adults by creating two campuses. The Our Place Homeless Project will enhance the CrossRoads program and provide additional care management services for homeless women, children and families. The separation of the populations will provide a child friendly space for children, which is required to support a learning environment as well as allow families to remain together.
This partnership will also include the development of a community garden at the campus as well as extensive facility improvements funded by Washoe County for use by state staff from the Nevada Aging and Disability Services Division.
For more information on services and programs provided by the Department of Health and Human Services, visit dhhs.nv.gov.
For more information on the Nevada Division of State Lands, visit lands.nv.gov.