Celebrate the 51st Annual Earth Day with NDCNR as we "Restore Our Earth"
In celebration of this year's global Earth Day theme, the Nevada Department of Conservation and Natural Resources has released a video and blog featuring everyday tips for Nevadans to help "Restore Our Earth" here in Nevada.
Carson City, NV - Every day is Earth Day for the Nevada Department of Conservation and Natural Resources (NDCNR) as we strive to protect, preserve, and enhance Nevada's amazing natural, cultural, and recreational resources. In recognition of the 51st annual celebration of Earth Day on April 22, we reflect on the many ways our team supports the 2021 global theme "Restore Our Earth":
Advancing sustainable outdoor recreation opportunities in all corners of Nevada, to ensure ecological values are protected and enhanced as recreation continues to grow through:

Ensuring sustainable off-highway vehicle recreation by investing registration fees in environmental and recreational improvement projects.
Providing amazing outdoor experiences at Nevada's 27 State Parks and advancing environmental stewardship programs and practices.
Protecting and preserving Lake Tahoe through collaborative partnerships and science-driven policy and management solutions, and investing Lake Tahoe License Plate proceeds into environmental restoration projects.
Promoting eco-friendly recreation opportunities and sustainable tourism through the Nevada Division of Outdoor Recreation, and much more.

Using the best available science to study Nevada's most vulnerable and at-risk plant and animal species to help inform policy actions and management practices. Last year, the Nevada Division of Natural Heritage partnered with the Springs Stewardship Institute to visit and assess 177 natural springs throughout Nevada that many of our state's native species call home.
Cultivating fire-resilient landscapes and communities through numerous initiatives, including implementation of the Nevada Shared Stewardship Agreement. This innovative partnership is a joint effort by the Nevada Division of Forestry and federal and state natural resource managers to foster fire-adapted ecosystems and fire-resilient communities across Nevada on public and private lands.
Conserving and enhancing Nevada's vital sagebrush ecosystems, including advancing innovative solutions like Nevada's Sagebrush Conservation Credit Program. This market-based conservation credit system brings together stakeholders from across the spectrum to balance economic advancement with science-based habitat conservation projects In 2020, Nevada's Sagebrush Conservation Credit Program established conservation partnerships that will protect 4,480 acres of quality sage-grouse habitat for the next 30+ years, bringing the total protected acreage to over 120,000.
Providing oversight for a myriad of mining activities and ensuring sites are properly cleaned up, restored, or revitalized when the mine operations close. For example, the Nevada Division of Environmental Protection announced that the first major construction phase of the sweeping Anaconda Mine Site clean-up and revitalization project is slated to break ground in August, 2021.
Preparing Nevada for a healthy, resilient future by advancing efforts to fight climate change. As directed by Gov. Sisolak, last year, the Nevada Climate Initiative released a comprehensive Nevada State Climate Strategy that provides a framework for Nevada to achieve a healthy, sustainable, climate-friendly future.
You can help "Restore Our Earth" and Nevada, too! For tips on how you can support a clean, healthy, and vibrant Nevada, check out NDCNR's Nevada Field Notes Blog post: 51 Tips to Celebrate Earth Day and Restore our State.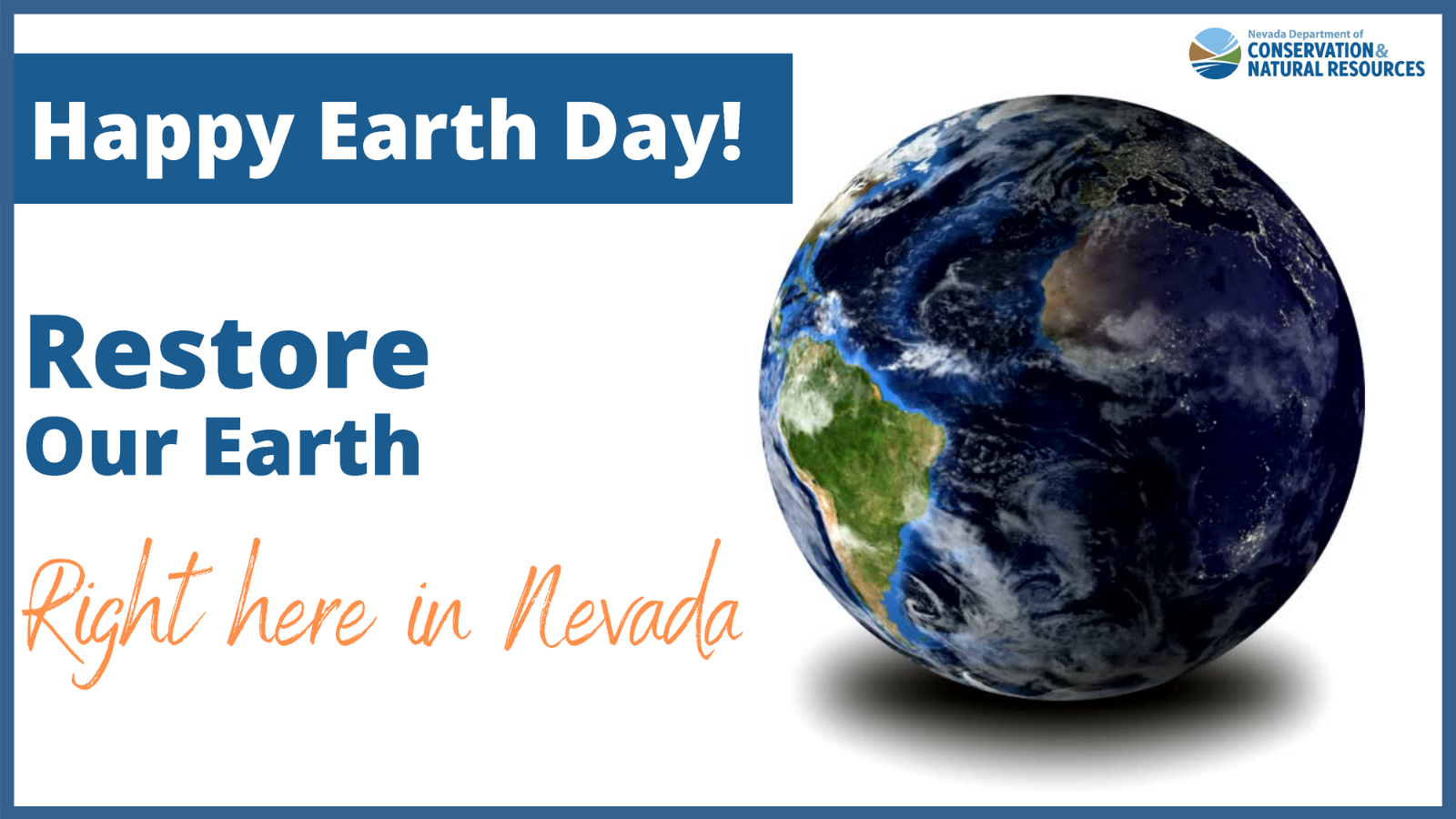 (The video can be viewed by clicking the image above)
You can also watch Earth Day with NDNCNR to hear our team describe what each and every one of us can do to collectively protect the Silver State.
Happy Earth Day!