Nevada Division of Outdoor Recreation

NEW! Take our Survey to Help Shape Nevada's Outdoor Recreation Future
Do you enjoy exploring Nevada's public lands, parks, trails, and waterways? Would you like to see new bike paths, playgrounds, or other outdoor recreation infrastructure in your community? Right now, all Nevadans have the opportunity to weigh in on key topics like these to help shape the future of outdoor recreation in their neighborhoods, communities, and Nevada-wide. Let your voice be heard by completing a quick survey on outdoor recreation, brought to you by the Nevada Division of Outdoor Recreation and Nevada Division of State Parks. Click here for more information and to participate in the survey.
Nevada Division of Outdoor Recreation: Our Mission
To promote Nevada's outstanding outdoor recreation opportunities and the conservation of its natural environment, grow Nevada's economy through outdoor recreation, and educate the public about responsible recreation and healthy and active lives enriched by the outdoors.
What We Do
The Nevada Division of Outdoor Recreation (NDOR) is committed to:
Enhancing Nevada's one-of-a-kind, sustainable outdoor recreation opportunities
Promoting a healthy and sustainable outdoor recreation economy centered on protecting Nevada's natural resources
Attracting new outdoor recreation-oriented businesses to the state
Advancing Nevada's immense variety of outdoor recreational opportunities to improve public health and wellness
Educating and engaging Nevada's youth in outdoor recreation activities
Engaging underserved populations, ensuring all Nevadans have access to outdoor recreation
Nevada's Outdoor Recreation Opportunities
Nevada offers a diverse array of outdoor recreation opportunities for local residents and adventure-seekers from all over the world. From paddleboarding on beautiful Lake Tahoe, to hiking the breathtaking Valley of Fire State Park, or skiing in the Ruby Mountains, Nevada features outdoor recreation experiences for people of all ages and abilities.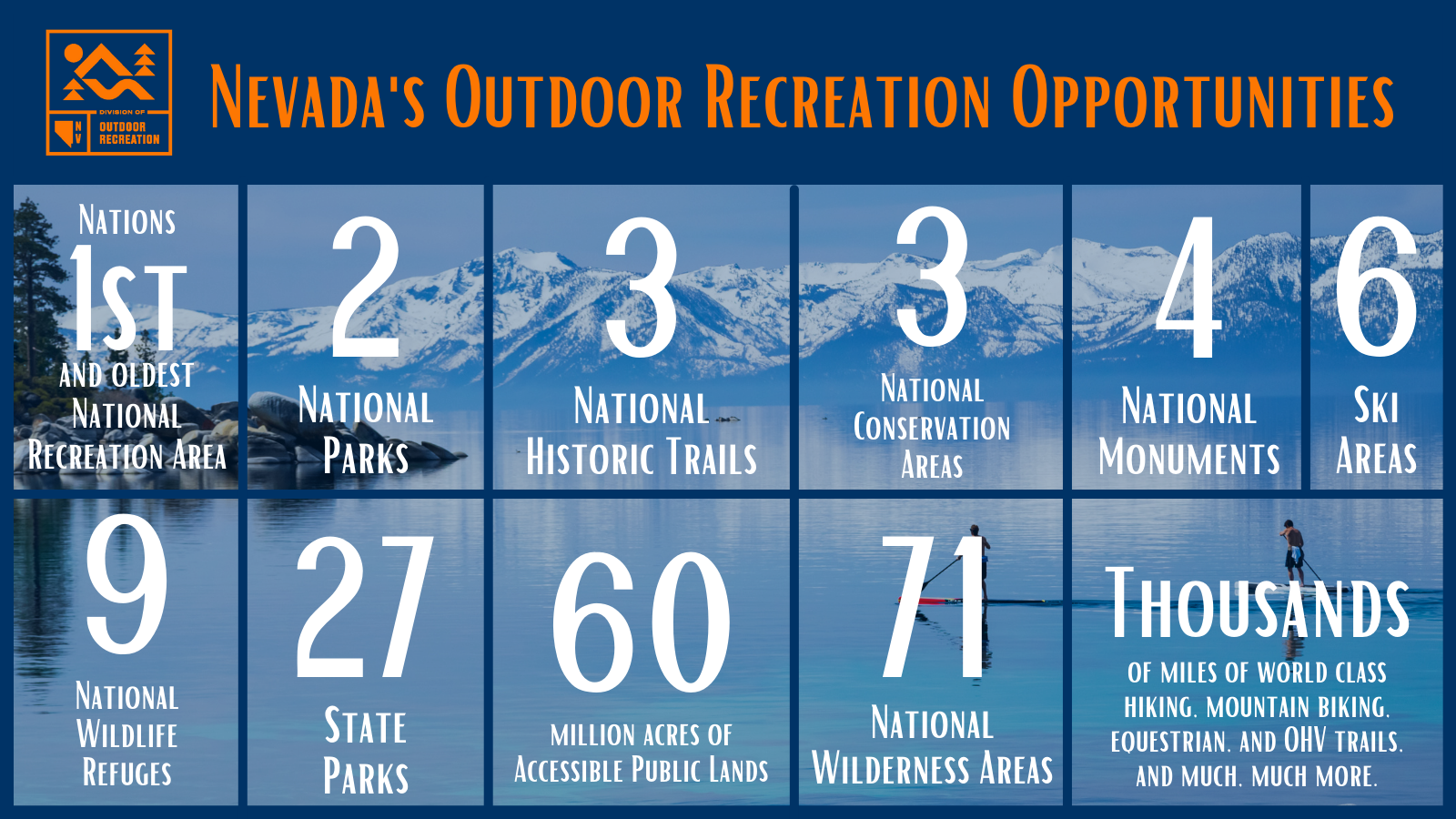 News You Can Use
Media Inquiries
Please contact the Public Information Office to:
Schedule interviews
Meet with subject matter experts/sources
Request an official comment or statement from NDOR
Coordinate a time to gather news, record video, or take photos
Request digital photos and videos
Join the Outdoor Recreation Conversation
New social media channels are coming soon! In the meantime, make sure that you are following the Nevada Department of Conservation and Natural Resources on Twitter, Facebook, and Instagram.